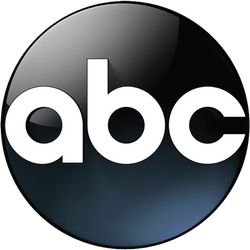 The American Broadcasting Company (ABC) is one of the four major television networks in the United States (the other 3 are CBS, NBC and Fox). It was established in 1943 as a radio broadcaster, and went into television in 1948. It was acquired by The Walt Disney Company in 1996. As of 2008, it is the most-watched television network in the United States.
In 1997, ABC picked up the rights to the Walt Disney Anthology series and revamped it to The Wonderful World of Disney, which aired from then until 2008. The series aired various Disney films and even some non-Disney such as The Mask.
On August 20, 2011, ABC showed Phineas and Ferb The Movie: Across the 2nd Dimension, notably the first time a Disney Channel Original Movie aired on the network.
The channel has also run various animated television series by Disney on Saturday mornings from 1987 to 2011. In 1996, their Saturday morning lineup transitioned into a mostly-Disney-owned lineup, and became One Saturday Morning in 1997. ABC Kids replaced One Saturday Morning in 2002, but unlike the previous block, it eventually only aired reruns of Disney Channel series. The block was replaced by Litton's Weekend Adventure in 2011. In 2007 Touchstone Television was re-branded as ABC Studios, and became the main source for ABC's programming.
The American Broadcasting Company will also air the Marvel Comics superhero television series S.H.I.E.L.D., based on the organization of the same name.
Disney shows that premiered on ABC
Original Disney programs
Acquired Disney programs
Gallery