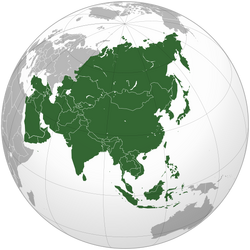 Asia is the largest continent and populated the Earth with about 44 million square kilometers, accounting for 8.70% of the total land area and 29.45% of the land area and with 4,140, 000,000 inhabitants, 61% of the world population. It extends over the eastern half of the northern hemisphere, from the Arctic Ocean to the north, the Indian Ocean to the south. Bordered to the west by the Ural Mountains, and on the east by the Pacific Ocean. In the conventional division of continents, from Europe, Asia and Europe appear as two different entities for cultural and historical reasons. Geographically, really form a single continent called Eurasia. Furthermore, Eurasia is joined to Africa by the Suez Canal so it can also be seen throughout the joint area of ​​Europe, Asia and Africa as a single supercontinent called Eurasia occasionally, or Afro-Eurasia.
Appearances in Disney media
Ad blocker interference detected!
Wikia is a free-to-use site that makes money from advertising. We have a modified experience for viewers using ad blockers

Wikia is not accessible if you've made further modifications. Remove the custom ad blocker rule(s) and the page will load as expected.