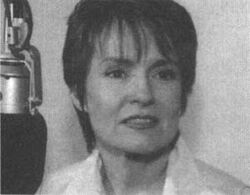 Betty Jean Ward (born on September 16, 1944 in Wilmington, Delaware), professionally known as B. J. Ward, is an American actress and voice actress. She is the creator and star of Stand-Up Opera, a musical one-woman show, as well as being a licensed aviator.
She did several voice roles for Disney, primarily in the theme parks. Among them:
She also voiced Harmond on TaleSpin, Birdie McQuack and Loopey McQuack in DuckTales and a Street Mother in The Return of Jafar.
References
Ad blocker interference detected!
Wikia is a free-to-use site that makes money from advertising. We have a modified experience for viewers using ad blockers

Wikia is not accessible if you've made further modifications. Remove the custom ad blocker rule(s) and the page will load as expected.