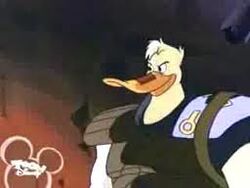 Canard Thunderbeak
[1]
is a character from the
Mighty Ducks
TV series. He is voiced by
Townsend Coleman
[2]
[3]
.
Mighty Ducks
Canard Thunderbeak was Wildwing's best friend, and the only remaining survivor of the Resistance from Puckworld (or so we thought). He was the original leader and team captain of the Mighty Ducks before being pulled into Dimensional Limbo. While following Dragaunus through a dimensional gateway, Canard sacrificed himself when the Saurians released an electromagnetic worm on the Aerowing. Before he did, he gave the mask of Drake DuCaine to Wildwing and told him to be the team captain. To this day, as far as the Mighty Ducks know, Canard is still trapped in dimensional limbo. He was a great leader and a great friend. Wildwing believes Canard is still alive and swears he will find him.
Gallery
References
Ad blocker interference detected!
Wikia is a free-to-use site that makes money from advertising. We have a modified experience for viewers using ad blockers

Wikia is not accessible if you've made further modifications. Remove the custom ad blocker rule(s) and the page will load as expected.