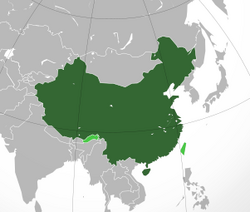 Officially the
People's Republic of China (Simplified Chinese: 中华人民共和国, Traditional Chinese: 中華人民共和國)
(PRC), it is the world's most-populous country, with a population of over 1.3 billion. Covering approximately 9.6 million square kilometers, the East Asian state is the world's second-largest country by land area, and the third- or fourth-largest in total area, depending on the definition of total area.
The People's Republic of China is a single-party state governed by the Communist Party of China. It exercises jurisdiction over 22 provinces, five autonomous regions, four directly controlled municipalities (Beijing, Tianjin, Shanghai, and Chongqing), and two mostly self-governing special administrative regions (Hong Kong and Macau). Its capital city is Beijing.
Films/TV
Cities and Buildings
Attractions
Actors/Actresses and Crew born in China
Most of the people listed were actually born in the administrative region of Hong Kong.
Gallery
Ad blocker interference detected!
Wikia is a free-to-use site that makes money from advertising. We have a modified experience for viewers using ad blockers

Wikia is not accessible if you've made further modifications. Remove the custom ad blocker rule(s) and the page will load as expected.