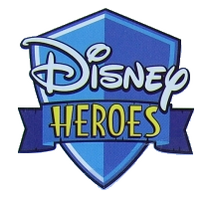 Somewhat related to the Disney Princes is a line of action figures sold at Disney Store locations, Disney Heroes. It features different Disney characters with stylized appearances, some of which are quite different from their appearances in their respective films. In addition to the heroes Peter Pan, Hercules and Prince Phillip, the collection also offers the villains Maleficent (in her Dragon form) and Captain Hook. There is little indication, however, that this will develop into a franchise (such as the successful Disney Princess product line).
Characters
Snow White and the Seven Dwarfs: The Prince and the Seven Dwarfs
Lady and the Tramp: Tramp
The Sword in the Stone: Merlin
Beauty and the Beast: Beast
A Bug's Life: Flik and The Circus Bugs
Home on the Range: Maggie, Mrs. Calloway, Grace, Buck and Lucky Jack
Enchanted: Pip and Prince Edward
The Princess and the Frog: Prince Naveen, Ray and Louis
Tangled: Flynn Rider, Pascal and Maximus
Brave: Queen Elinor and the Lords' sons
Gallery
See also: Disney Heroes/Gallery
Ad blocker interference detected!
Wikia is a free-to-use site that makes money from advertising. We have a modified experience for viewers using ad blockers

Wikia is not accessible if you've made further modifications. Remove the custom ad blocker rule(s) and the page will load as expected.