We have just received word from a very reliable source regarding the future of A Bug's Life. Our source informs us that Pixar is intending to proceed with a sequel to A Bug's Life, with a projected release date of Winter 2014
.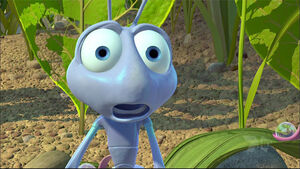 The film is currently in early pre-production with Darla K. Anderson attached to direct. Darla is currently producing Toy Story 3, due for release next year which would give her the typical 3 years to make a sequel at Pixar. It seems she wouldn't be the first producer to direct at Pixar either, after Brad Lewis was announced as director of Cars 2 last year. Some of you may recall that Darla has been with Pixar since Toy Story, also serving as producer on A Bug's Life.
Although the storyline is still in the works, our source tells us it has to do with Ant Island being washed away in a severe flood, and they have to migrate and rebuild in a new location.
Characters
Main characters/Heroes
Valian (Older Brother of Flik)
Princess Dot (Growing Up)
P.T. Flea
Mister Soil
Dr. Flora
Brutus, the Toad King
Toads (they are the amphibius outlaws)
Villains/Grasshoppers
Grass (the cousin of Hopper)
Dinamos (the Ant is evil witcher)
Termites (a tribe in a mound)
Termite Chief
Lizard (a monitor lizard that is inspired by Tyrannosaurus Rex from Fantasia)
Supporting characters
Noan (Father of Flik and Valian)
Jean (Mother of Flik and Valian)
Queen Berrie (Queen of other colony, Valian and familiar)
Voice Cast Members
Dave Foley as Flik
Julia Louis-Dreyfus as Queen Atta
Emily Hahn as Princess Dot
Angela Lansbury as the Ant Queen (replacement voice)
David Hyde Pierce as Slim / Grass
Jerome Ranft as Heimlich (sound-alike replacement voice)
Denis Leary as Francis
Jim Cummings as Manny (replacement voice)
Jennifer Aniston as Gypsy (replacement voice)
Michael McShane as Tuck and Roll
Bonnie Hunt as Rosie
Brad Garrett as Dim / Valian
John Ratzenberger as P.T. Flea
Richard Kind as Molt (Tiny)
Jonathan Freeman as Dinamos
Ed Asner as Mr. Soil (replacement voice)
Edie McClurg as Dr. Flora
Alex Rocco as Thorny
David Ossman as Cornelius
Frank Welker as Thumper
Ad blocker interference detected!
Wikia is a free-to-use site that makes money from advertising. We have a modified experience for viewers using ad blockers

Wikia is not accessible if you've made further modifications. Remove the custom ad blocker rule(s) and the page will load as expected.