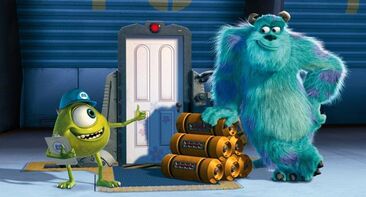 An all-new animated cartoon from Disney and Pixar. Based on the comic book from Monsters, Inc.: Laugh Factory and the 2001 movie Monsters, Inc. The TV series premieres on the future on Disney Channel and Disney XD. 1 year after the movies Monsters University and Monsters, Inc.
Characters
List of episodes
Season 1:
1.one little cub:Mike found the egg and born the lizard named Randall Boggs (like of the first film). After Mike turned his friend of Randall and he took the cap of collection of screams,Randall turned the most playful piece. 
2.The curse of Sulley:Mike meeting Sulley of university of world of monsters. After Mike kissing her the Celia,He cursed with the kiss. 
3.another Mike 3-D movie:Mike,Sulley and Celia try record the movie of Godzilla (who is actually Randall Boggs) for Fungus with the great movie star. 
4.The dog of Mike:One night,Mike found the dog named Toby and turned his most playful piece and who all the world adopted the other dogs of house.
5.The date of Mike:Mike will give the special date of Celia and the family of sandwichs. 
6.Dumb:The first special episode was with the version of 1941 film,Dumbo. Toby was found the love of Tina. Mike says who he can learn to fly for lead prank of the clowns of Circus and the ringmaster. 
7.Christmas who?:Today is christmas and Mike,Sulley,Randall and Celia celebrating the song of the christmas,the tree and the gifts with the arrival of santa claus. 
8.the sucess of Mike:John Lasseter telling the story of Monstropolis. Mike and Sulley get work of studios of Pixar Animation Studios with the sucess of movie star.
9.Mike vs. games:Mike enters from the game of arcade for defeat the villians.