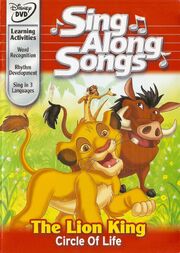 Disney Sing Along Songs: The Lion King (also known as is Disney Sing Along Songs: Circle of Life in some countries) a Disney Sing Along Songs video released on December 13, 1994 and the DVD release in the future.
Songs
Trivia
Hosted by Jiminy Cricket (1st edition only. 2003 edition featured voiceover only)
Following the Leader" is only in the UK version and replaces "Everybody Wants to Be a Cat".
Songs in the 2003 DVD release.
2003 DVD Release includes Vocabulary Game and Guess That Song.
Known as El Rey Leon: El Ciclo Sin Fin in Spanish, released in Spain. Also known as El Ciclo de la Vida.
One of the Spanish versions (not the original one from Spain) can be found as a bonus feature in the 2003 DVD release and is like the 2003 release with the title cards.
The timing of the words are different for "Part of Your World" in the 2003 version.
Song in The "Can You Feel The Love Tonight" sing along has a the future DVD release.
Gallery
Ad blocker interference detected!
Wikia is a free-to-use site that makes money from advertising. We have a modified experience for viewers using ad blockers

Wikia is not accessible if you've made further modifications. Remove the custom ad blocker rule(s) and the page will load as expected.