Doug Funnie
Background information
Feature films
Doug's 1st Movie
Television programs
Disney's Doug
Video games
Doug's Big Game (Game Boy Color)
Park attractions
Doug Live! (Stage show at Disney MGM Studios (now Disney's Hollywood Studios) in Walt Disney World, from 1999 to 2001.
Portrayed by
Portrayed by
Animators
Voice
Billy West (Nickelodeon)
Thomas McHugh (Disney)[1][2]
Performance model
Designer
Inspiration
Character that creator Jim Jinkins created in the 8th grade.
Honors and awards
Character information
Full name
Douglas Yancey Funnie
Other names
Quailman (fantasy alter-ego)
Smash Adams (fantasy alter-ego)
Race Canyon (fantasy alter-ego)
Dougie (nickname)
Personality
Imaginative, short-tempered, smart
Appearance
Slender, 11 years old, handsome, brief belly fat (which he begins to lose in the Disney series), not much hair, big nose, small black eyes, medium-hight, white shirt, green sweatervest, gray pants, white socks, blueish-black sneakers (red; in the Nickelodeon series)
Birthday
August 22nd
Occupation
Student
Affiliations
Good
Goal
To become a cartoonist and to win the heart of Patti Mayonnaise
Home
21 Jumbo Street
Bluffington
Relatives
Phil Funnie (father)
Theda Funnie (mother)
Judy Funnie (older sister)
Cleopatra "Dirtbike" Funnie (younger sister)
Pets
Porkchop (dog)
Happy (hamster; desceased)
Goldy (deceased)
Allies
Skeeter Valentine, his girlfriend Patti Mayonnaise, Beebe Bluff, Roger Klotz (at times), Stunky Beumont, Chalky Studebaker, Connie Benge, Boomer Bledsoe, Ned Cauphee, Willy White
Minions
Enemies
Roger Klotz (at times), Guy Grahm, Bill Bluff, Lammar Bone
Likes
Drawing, playing the banjo, the Beets (favorite band), Patti, hanging out with his friends
Dislikes
Guy trying to take Patti away from him, Roger being a jerk
Powers and abilities
His Quail-eye (Quailman fantasies only)
Weapons
Fate
Ended up together with Patti Mayonnaise, and graduated from Grade 7.
Quote
(reads his name on each episode) "That's me!"
(gets shocked and sees Porkchop paints any episode title in black with his name on the white wall) "Hey!"
(writes his journal) "Dear diary (or journal)...."
[Source]
Doug Funnie[3] is the title character of the Nickelodeon/Disney television series Doug. He is 11 years old in the Nickelodeon series and 12 1/2 in the Disney series.
Personality
Doug is an extremely short-tempered, easily angered, and imaginative young boy who is often the target of being easily provoked or having a practical joke played on him. He is known for having strong moral values and always knows to do the right thing. He also is famous for his wild imagination, and often has various fantasy sequences in the series.
Doug has many friends, and his best friend is Skeeter Valentine. He met Skeeter on the day he moved to Bluffington, and they've been the best of friends since then.
When Doug first arrived in Bluffington, he fell in love with Patti Mayonnaise, one of the girls in his town. They have been best friends since they met, with Doug having a crush on her. By the end of the show, Patti tells Doug how she feels about him and decides to go on a "date-date" with him. Aside from Patti, Connie Benge has had a small crush on him in the Nickelodeon series, and asked him to go to the dance with her, with him trying to make up a story for her to say no.
Doug was a usual target for the school bully, Roger Klotz, to pick on. Roger would usually play practical jokes on him and call him names. Later on, Roger stops being as mean to Doug, and almost acts like a friend to him. Doug also considers Guy Grahm a rival for his love for Patti, however Guy doesn't notice this.
Alter-Egos
During Doug's many fantasy sequences, he took on the personality of many characters.
The most famous one in the series was Quailman, which was a superhero that was just Doug wearing his usual outfit, but with a red "Q" on his sweatervest, a belt on his head, and briefs on the outside of his pants. Unlike most superheroes he often tried to fight without using physical force.
Another alter-ego of Doug was Smash Adams, a parody of James Bond. Adams was already a movie character in Bluffington, so Doug's fantasies were just him taking on the role. When Doug played Smash Adams, he usually had his hair slicked back, wore a white (or on some occasions, black) tuxedo, and spoke with a British accent.
Doug's third alter-ego was Race Canyon, a parody of Indiana Joans. Canyon only appeared four times in the series, and all of the episodes but one being from Nickelodeon. In one episode, Doug dressed as Race Canyon for Halloween, but it's unknown whether he exists outside Doug's imagination or not.
Theme Parks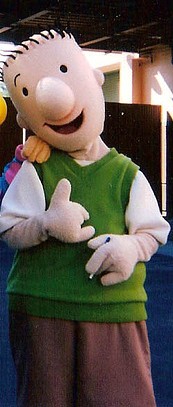 Doug appeared in the stage show Doug Live!, which lasted from January 1999 until May 2001 at the Disney-MGM Studios. Doug also appeared as a walkaround character at the Disney-MGM Studios around the time. Since 2001, he's been retired, but may make an appearance on a rare occasion, usually if another cast member is delayed.
An earlier costumed version of Doug has appeared at Nickelodeon Studios (which was in Universal Studios Florida until Nickelodeon Studios' closing in 2005) for special events from 1991 to 1995, when Nickelodeon still owned most of the rights to the show. As such, Doug was dressed in his Nickelodeon attire.
Trivia
Doug is left-handed.
While he does appear bald, he has been mentioned to have hair in some episodes, suggesting that his near-bald appearance is just for artistic purposes.
Doug is the only character in all the episodes.
Doug and Patti were the only characters from any show on One Saturday Morning to appear at any Disney parks and the only non-Disney characters to appear at the parks.
Gallery
References
Ad blocker interference detected!
Wikia is a free-to-use site that makes money from advertising. We have a modified experience for viewers using ad blockers

Wikia is not accessible if you've made further modifications. Remove the custom ad blocker rule(s) and the page will load as expected.