Frozen 2 is the sequel to the 2013 CGI animated Frozen.
Upcoming in the future.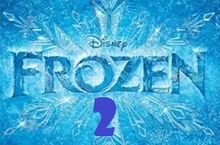 Interview
In an interview with Fortune magazine, Disney CEO Bob Iger gushed over the success of the company's newest animated hit FROZEN, currently heating up both domestic and global box offices. The exec called the animated musical, "my proudest moment as the CEO of the Walt Disney Company."
Iger also revealed to Fortune that a stage version of the film, which features voice overs from Broadway stars Idina Menzel, Jonathan Groff and Josh Gad, is currently under discussion at the House of Mouse, however no time frame has been set for the project. "We're not demanding speed...We're demanding excellence," Iger explained.
In addition, movie audiences may soon be treated to a sequel of the Nordic-themed saga, following strong sales of licensed toys based on the film. Iger says the "exhilaration" from the studio's success "was profound", particularly after several disappointing animated endeavors released in recent years, including 2009's The Princess and the Frog.
"It's not about the bottom line. The bottom line is for the quarter. This is for something bigger and longer," he reflects, adding "If you think long term about what Disney is and the success and the vitality of the brand, this is a very, very important event."
Read the interview in full here!
References
Ad blocker interference detected!
Wikia is a free-to-use site that makes money from advertising. We have a modified experience for viewers using ad blockers

Wikia is not accessible if you've made further modifications. Remove the custom ad blocker rule(s) and the page will load as expected.