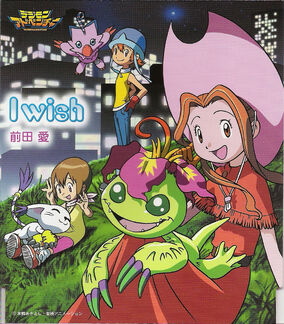 I wish is a single from Digimon Adventure. I wish was the first ending theme song for Digimon Adventure.
Lyrics
Mimi

To heaven I ask a favor
you want me
to die I wish
that someday you're with me forever
... I have faith mmm ...

I do not know why
you refuse to believe
I'm the one who loves you more
and I will make you very happy
sooner or later you will be you my man

I know heaven will hear me
eying him my heart
to hear my song that
I'm pretty sure you will come here

I do not fear no evil
should be inspired by a blue sea
much I can offer
you will not regret

no issues will not make you evil
must be inspired by a blue sea
and you and me someday we will be happy
I have faith ... mmmm ...

I love you

Ad blocker interference detected!
Wikia is a free-to-use site that makes money from advertising. We have a modified experience for viewers using ad blockers

Wikia is not accessible if you've made further modifications. Remove the custom ad blocker rule(s) and the page will load as expected.