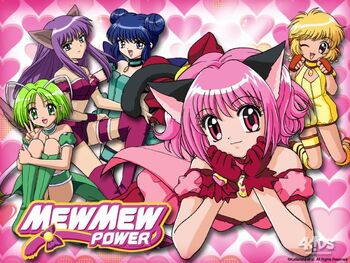 Mew Mew Power is the name of the anime adaptation of the Tokyo Mew Mew manga, which the episodes are based on. The series was directed by Noriyuki Abe and produced by Studio Pierrot. The story focuses on the five girls infused with D.N.A of endangered animals that give them special powers. These powers allow the girls to transform into super-heroines and they fight to protect the Earth from a group of aliens who wish to "reclaim" it. The series was broadcast on both TV Aichi and TV Tokyo in Japan and premiered on April 6, 2002. It aired weekly until in ended on March 29, 2003.
Name Changes
References
Ad blocker interference detected!
Wikia is a free-to-use site that makes money from advertising. We have a modified experience for viewers using ad blockers

Wikia is not accessible if you've made further modifications. Remove the custom ad blocker rule(s) and the page will load as expected.