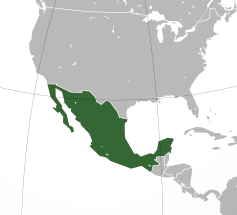 Officially the
United Mexican States
(Spanish: Estados Unidos Mexicanos), Mexico is a federal constitutional republic in
North America
. It is bordered on the north by the
United States of America
; on the south and west by the Pacific Ocean; on the southeast by Guatemala, Belize, and the
Caribbean
Sea; and on the east by the Gulf of Mexico. Covering almost two million square kilometers (over 760,000 square miles), Mexico is the fifth largest country in the Americas by total area and the thirteenth largest independent nation in the world. With an estimated population of over 113 million, it is the eleventh most populous country and the most populous Spanish-speaking country. Mexico is a federation comprising thirty-one states and a Federal District, the capital city.
Films and Shows
Attractions
Actors and Crew born in Mexico
Gallery
External links
Ad blocker interference detected!
Wikia is a free-to-use site that makes money from advertising. We have a modified experience for viewers using ad blockers

Wikia is not accessible if you've made further modifications. Remove the custom ad blocker rule(s) and the page will load as expected.