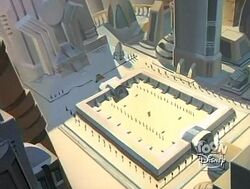 Puckworld is a planet in another universe where the series Mighty Ducks is set. It is a very cold, icy planet, perfectly suited to the Ducks' favorite pastime, ice hockey. The asteroids surrounding it are in the shape of hockey pucks.
Gallery
Ad blocker interference detected!
Wikia is a free-to-use site that makes money from advertising. We have a modified experience for viewers using ad blockers

Wikia is not accessible if you've made further modifications. Remove the custom ad blocker rule(s) and the page will load as expected.