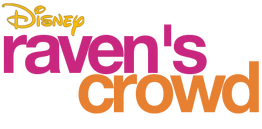 Raven's Crowd (also known as Raven & Company in Europe) is an upcoming American sitcom created by CureKurogane for the Disney Channel. The series focuses on Raven Baxter and Chelsea Daniels who move into an apartment in New York City, but doesn't know that they will be living with new roommates. It is an alternate universe spin-off of That's So Raven.
Production
After watching the premiere episode of the Raven spin-off, Raven's Home . CureKurogane thought of a story that takes place in an alternate universe where Raven Baxter and her best friend Chelsea Daniels move to New York and living together after Raven becomes gets a job from Shiro Nakamoto, a world famous yet air-headed, but jolly and caring fashion designer, only to find out that they won't be alone. 
It is confirmed by CureKurogane that Raven's Crowd will serve as a crossover spin-off of That's So Raven as well as the other series: The Suite Life series , Shake It Up , and Wizards of Waverly Place where the main characters of the chosen series will reprise as the new roommates of Raven Baxter and Chelsea Daniels.
Plot
In this story, Raven Baxter moves to New York City to start her fashion designing career under the guidance of Nakamoto, a fashion house founded by world famous fashion designer, Shiro Nakamoto. As a result, she finds a nice large apartment where she along with her best friend, Chelsea Daniels move in together. But what they don't know is that the landlord has told them that they will be living with roommates. With her psychic abilities and her chance of becoming a full-fledged fashion designer already in her mind, Raven now must try to get comfortable with the new houseguests she was told by the landlord.
Characters
Main Characters
Minor Characters
Shiro Nakamoto (played by Peter Shinkoda) -  Shiro is a well-known fashion designer across the globe and is the CEO of the Nakamoto fashion line. He is very eccentric, and a bit air-headed at times, but is very kind-hearted, cheerful, and encouraging to aspiring fashion designers, especially his new apprentice, Raven Baxter who he discovered and offered her to help her get her name out there. Shiro has a weakness for dogs, his favorite breed being the Siberian Husky (which Chelsea has being named Balto), also being a pescitarian, and being a skilled baker. He shares a deep rivalry with Donna Cabonna, and his catcphrases are, "Whoa, tiger", "Say what!?" and "Yareyare" which roughly translates to "Good grief!"
Episodes
Episode #
Episode Title
Written by
Directed by
Airdate
Viewers (millions)
01
"Welcome to the Big Apple!"
CureKurogane
Sean McNamara
CureKurogane
TBA
TBD
Ad blocker interference detected!
Wikia is a free-to-use site that makes money from advertising. We have a modified experience for viewers using ad blockers

Wikia is not accessible if you've made further modifications. Remove the custom ad blocker rule(s) and the page will load as expected.