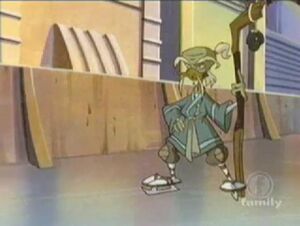 Tai Quack Do
(voiced by Roy Firestone) was
Grin
's grand hockey master who taught him the true way of hockey and how to play it honorably when Grin was a little spoiled goon. Years later, his words and teachings inspired Grin to try and change a hockey goon named
Stanley Strazinski
, with a grudge for the Mighty Ducks, which in the end, succeeded, thus, making him change his ways and become a hockey referee. His name is a word play of the Korean martial art known as Taekwondo.
Gallery
Ad blocker interference detected!
Wikia is a free-to-use site that makes money from advertising. We have a modified experience for viewers using ad blockers

Wikia is not accessible if you've made further modifications. Remove the custom ad blocker rule(s) and the page will load as expected.