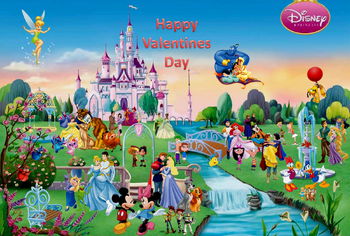 The great thing about celebrating Valentine's Day with a loved one at Walt Disney World is its endless variety. One moment you can be clutching that special someone while falling 13 stories in a runaway elevator, the next moment you can sip an aromatic Merlot during a romantic, candle lit dinner for two.
Couples romantic
Mickey and Minnie
Simba and Nala
Belle and Beast/Prince Adam
Aladdin and Jasmine
Hercules and Megara
Fa Mulan and Li Shang
T.K and Kari
Patamon and Gatomon
Flik and Atta
Valian and Dot
Anna and Kristoff
Rapunzel and Eugene Fitzherbert
Ariel and Eric
Tiana and Naveen
Stitch and Angel
Donald and Daisy
Pocahontas and John Smith
Felix and Calhoun
Wall-E and EVE
Buzz and Jessie
Mr. Incredible and Elastigirl
Snow White and her Prince
Cinderella and Prince Charming
Lady and Tramp
Aurora and Phillip
Phineas and Isabella
Candace and Jeremy
Roger and Jessica
Lucia and Kaito
Kiara and Kovu
Pongo and Peritda
Robin Hood and Maid Marian
See also
Ad blocker interference detected!
Wikia is a free-to-use site that makes money from advertising. We have a modified experience for viewers using ad blockers

Wikia is not accessible if you've made further modifications. Remove the custom ad blocker rule(s) and the page will load as expected.