"Welcome to the urban jungle."
―Tagline
Zootopia (also known as Zootropolis in some European countries and the Middle East) is a 2016 American 3D computer-animated adventure-comedy film produced by Walt Disney Animation Studios and distributed by Walt Disney Pictures. It is co-directed by Byron Howard (Bolt and Tangled), Rich Moore (Wreck-It Ralph) and Jared Bush (Penn Zero: Part-Time Hero), and produced by Clark Spencer (Lilo & Stitch, Bolt and Wreck-It Ralph), and it's the 55th animated feature in the Disney Animated Canon. It was released on March 4, 2016 in the United States and Canada, and February 14, 2016 in Belgium.
Synopsis
The modern mammal metropolis of Zootopia is a city like no other. Comprised of habitat neighborhoods like ritzy Sahara Square and frigid Tundratown, it's a melting pot where animals from every environment live together — a place where no matter what you are, from the biggest elephant to the smallest shrew, you can be anything. But when optimistic Officer Judy Hopps arrives, she discovers that being the first bunny on a police force of big, tough animals isn't so easy. Determined to prove herself, she jumps at the opportunity to crack a case, even if it means partnering with a fast-talking, scam-artist fox, Nick Wilde, to solve the mystery.[1]
Plot
Zootopia is a gleaming metropolis populated by anthropomorphic mammals, divided into several districts including Sahara Square, Tundratown, Little Rodentia and Rainforest District.
This film begins with a jungle which fades into a children's play about the history of Zootopia. One day, Judy Hopps, a rabbit from rural Bunnyburrow, fulfills her dream of joining the Zootopia Police Department as the first rabbit officer, however she is regularly assigned parking duty by Chief Bogo. During one of her shifts, she is manipulated by Nick Wilde, a con artist fox. Judy unlawfully arrests Duke Weaselton at Little Rodentia and is reprimanded by Bogo until Mrs. Otterton, an otter, arrives pleading help on locating her missing husband, one of the many recently missing predators. To Bogo's dismay, Judy volunteers and agrees to resign if she cannot solve the case within 48 hours. With Nick as a key witness of Mr. Otterton's disappearance, Judy locates the fox and coerces him to assist her with the investigation lest he be charged with tax evasion, which he openly admitted and Judy recorded with her carrot pen.
After acquiring Mr. Otterton's license plate number from Mystic Springs Oasis, Judy and Nick track the vehicle from the Department of Mammal Vehicles to Mr. Big, an arctic shrew crime boss in Tundratown. Mr. Big spares their lives after learning that Judy had rescued his daughter earlier, and informs the pair that Mr. Otterton is his florist and had been picked up by his chauffeur Manchas, a black jaguar, to bring him to Mr. Big to talk about something important. However, en-route, Otterton suddenly "went savage" - reverted to a feral state - and attacked Manchas before running off. Judy and Nick locate Manchas at his home in the Rainforest District for questioning. Manchas describes the attack on him and mentions that Otterton had been yelling about "night howlers". However, before he can reveal anything else, Manchas suddenly turns savage himself and chases the pair, but they manage to escape. Judy calls the ZPD for help, but when Bogo and his reinforcements arrive, Manchas is nowhere to be found. Bogo demands Judy's resignation, but Nick takes a stand, insisting they have 10 more hours to solve the case. As the pair leave the Rainforest District, Nick opens up to Judy, revealing that he was bullied by prey animals as a cub for being a fox and subsequently became a con artist, resolving to live out the "sly fox" stereotype, as no one saw a fox as anything else.
Nick realizes that the city's traffic camera system may have captured how Manchas disappeared, and the pair consult Assistant Mayor Bellwether. They then discover that Manchas was captured by wolves, which Judy assumes is what Otterton had meant by "night howlers". Judy and Nick locate Cliffside Asylum, where the wolves have detained the missing predators (including Mr. Otterton), all of which have gone savage, and eavesdrop on Mayor Lionheart consulting with a doctor about their condition, revealing that he is keeping the savage predators hidden from both the public and the ZPD, and that the cause their strange behavior is unknown. The pair escape, inform Bogo and the police swarm the area, arresting Lionheart and those involved. Bellwether subsequently becomes the new mayor.
Having developed a friendship with Nick throughout the case, Judy requests that he joins the ZPD and become her partner, which Nick happily considers. However, during a press conference, a pressured Judy describes the savaged predators' condition as them reverting to their natural instincts. This seemingly confirms Judy's bigotry against foxes to Nick, who angrily walks out on her offer. When fear and discrimination against predators spreads across Zootopia, a guilt-ridden Judy resigns. During this time, Gazelle holds a peaceful protest and publicly asks for the harmonious Zootopia she loves to be restored.
Two to three months later[2], Judy has returned to Bunnyburrow and rejoined the family business as a carrot farmer. However, she later learns from her parents and reformed childhood bully, fox Gideon Grey, that "night howlers" are toxic flowers that have severe psychotropic effects on mammals. Realizing that the flowers are what Otterton was referring to and that they must be the cause of the outbreaks, Judy returns to Zootopia, where she reconciles with Nick. They then locate Weaselton, who explains that he has been collecting night howlers for a ram named Doug, who owns a lab hidden in the subway tunnels. The pair find the lab and discover Doug creating a night howler serum which he has been exposing to predators via paintball-like pellets fired by an air-powered sniper gun. Judy and Nick hijack the lab (which is on a still functional train) and race to the ZPD with the evidence, but are pursued by Doug's henchrams, who they barely manage to defeat. The train is destroyed in the process, but Nick manages to save a case containing Doug's sniper gun and the serum pellet.
Just short of the ZPD, the pair encounter Bellwether who insists she takes the evidence. Realizing she is the mastermind of the conspiracy, Judy and Nick try to flee, but are knocked into a pit by her henchrams. Bellwether shoots a serum pellet from the evidence case at Nick and frames a call for help to the ZPD. Nick seemingly becomes savage and corners Judy, but it turns out the pair were acting in order to trick Bellwether into openly admitting her prey-supremacist scheme to take over Zootopia and rid it of all predators, and that they replaced the dart gun ammo with blueberries from the Hopps's farm. With Bellwether's monologue recorded on Judy's carrot pen, the ZPD arrive and arrest her and her henchrams. Upon being informed and interviewed on the matter, Lionheart denies any knowledge of Bellwether's plot, but admits to have illegally imprisoned the savage predators, claiming it to have been done for the "right reasons".
Later, Judy is reinstated into the ZPD. An antidote is discovered for the effects of the night howlers and all the infected predators, including Mr. Otterton and Mr. Manchas, are cured. Months later (about a year after Judy started her job at the ZPD), Nick joins the ZPD as the first fox officer and Judy's partner. The final scene has almost all of Zootopia attending Gazelle's concert while Bellwether angrily views it on a television in prison.
Cast
Development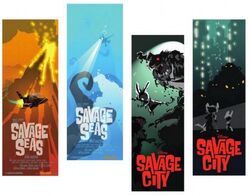 According to Howard, Zootopia will be different from other animal anthropomorphic films, where animals either live in the natural world or in the human world. The concept, where animals live in a modern world designed by animals, was well received by John Lasseter, who lifted Howard "in the air like a baby Simba," when he proposed the idea for the film. When first pitched, the film centered a rabbit named Jack Savage, who left the city of Zootopia to explore the South Seas. The film was under the titles Savage City and Savage Seas. The filmmakers were unimpressed with the story, but were nevertheless interested in the concept of an all-animal city, allowing a project centering the idea to go underway.[27]
While the characters are portrayed as anthropomorphic animals, the filmmakers were urged by Lasseter to keep the characteristics that make each animal unique, intact with the animation and movement that would be portrayed on screen.[28] To do so, the film crew was sent to Kenya, Africa, as well as Disney's Animal Kingdom, on a research trip, where they studied various mammal wildlife.[29][30] Live animals, such as sloths and fennec foxes were also brought into the studio building for further, intimate study.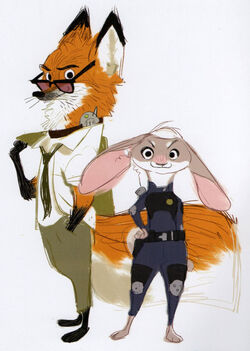 During research, the filmmakers learned that, in nature, prey mammals outnumber predators, despite the latter group generally being considered the dominant species. In response, the story was tailored to center the relationship between the "predator and prey" group, while reflecting modern day society by having the story serve as an allegory for racism and prejudice. In this version, predators, despite having evolved, were generally viewed as dangerous threats, and were forced to wear electric shock collars as a means to keep their "aggressive natures" under control at the hands of prey. The "tame collar" concept stuck through most of the film's production, even being approved by John Lasseter, but when screened for the team at Pixar, the response was negative. The city of Zootopia, in this state, was deemed too unlikable, and the story too dark, whereas the goal was to create a city that the audience could fall in love with, while making a film that—despite its serious subject matter—can still be a fun family film.[31][32]
The character of Nick Wilde was the protagonist of this version, but his role was later swapped with Judy Hopps after much discussion, being that the filmmakers felt a closer connection to her character, and the struggles she would have to face in the supposedly utopian, but ultimately broken, society.[31][33]
The primary issues centering the film, as mentioned, are prejudice and preconceived notions based on stereotypes. To further emphasize this, the creatures that inhabit Zootopia were limited down to mammals, to portray a sense of segregation between animals of predator and prey mentality; animals such as birds and marine life were left out as most, if not all, are consumers of other living organisms, making it difficult to narrow them down within the status quo of the story's conflict. The thought process of stereotypes was also integrated when deciding which familiar species would serve as the film's opposing leads, eventually determined as a rabbit-and-fox partnership.[34]
The city of Zootopia, itself, is comprised of various districts—all of which are tailored to best suit the animals that inhabit the them, both in terms of atmosphere, climate and scale. To accomplish this, the filmmakers assembled an "Environments team", who were tasked to create the unique spaces the characters roam and inhabit throughout the film. Each area was created to look as if it has a sense of history, adding chaos and minor details to bring the world to life. Furthermore, the studio revived the use of the Hyperion rendering system, which mimics real-world geometric complexity, and was first utilized in the previous animated feature, Big Hero 6.[30] Each district was also modeled after various real-world areas. For example, Tundratown, the district consisting of low-temperature mammals such as polar bears, was architecturally influenced by Russia.[35] Sahara Square, an area for high-temperature mammals such as camels, was modeled after Las Vegas. The renderings of the snow and wintry feel of Tundratown was also influenced by the 2013 animated feature Frozen.[30]
In March 2015, Rich Moore, who previously directed Wreck-It Ralph, was revealed to have been working on the film as a director, with Jared Bush as a co-director.[36]
On October 29, 2015, Moore announced that animation on the film was wrapped.[37]
Music
In addition to her voice role of Gazelle, the biggest pop star in Zootopia, Shakira also contributed to the film an original song, entitled "Try Everything", which will be written by Sia and Stargate.
On November 1, 2015, it was revealed that Michael Giacchino, acclaimed composer best known for his work at Pixar, will be composing the score for Zootopia, marking his first feature entry into the Walt Disney Animation Studios library.[38] The score was completed on November 20.
Release
Zootopia was relesed in theaters on June 7, 2016 in the United Sates, March 25, 2016 in the United Kingdom and on February 10, 2016 in Belgium.
Home media
Main article: Zootopia (video)
Zootopia was released on Blu-ray, Blu-ray 3D, DVD and Digital HD on June 7, 2016.[39] It includes some bonus material such as "Scoretopia" and the music video of "Try Everything".[40]
Reception
Box office
As of July 5, 2016, Zootopia has grossed $340.7 million in North America and $678.8 million in other territories for a worldwide total of $1,019,610,087 on an estimated budget of $150 million. In the United States and Canada, pre-release tracking suggest the film will open to $60–70 million from 3,827 theaters in its opening weekend.[41][42] It will play in 3,100 3D theaters, 365 IMAX theaters and 325 premium large formats screens.[41] As of now, it is the second highest-grossing film produced by Walt Disney Animation Studios, behind Frozen. It marks it the fourth animated film (after Toy Story 3, Frozen and Minions), eleventh Disney film, and twenty-sixth film to cross the $1 billion dollar mark.
Taking advantage of school holidays in various markets, Zootopia began opening in a very limited number of international markets in the weekend ending February 14, earning $4.5 million from 3 markets.[43] It expanded to 22 markets in its second weekend, which is 36% of its total international markets and added $31.2 million.[44] It added another $33 million in its third weekend with no new markets added.[45]
In its opening weekend—which varies between markets—it grossed $3.1 million in Spain and an additional $1.7 million in Belgium and Denmark. In Belgium, it scored the biggest ever animated opening for a Disney or Pixar movie.[43] It broke opening records for a Disney animated film in France ($8.7 million) and Poland ($1.2 million). Elsewhere, Mexico opened with $4.6 million and Italy opened on a non-holiday weekend to $3.3 million.[44]
Critical response
Zootopia has received universal critical acclaim from critics. On Rotten Tomatoes, the film is "Certified Fresh" with a rating of 98%, based on 217 reviews, with an average rating of 8.1/10. The consensus statement reads, "The brilliantly well-rounded Zootopia offers a thoughtful, inclusive message that's as rich and timely as its sumptuously state-of-the-art animation – all while remaining fast and funny enough to keep younger viewers entertained."[46] On Metacritic, the film has a score of 78 out of 100, based on 39 critics, indicating "generally favorable reviews".[47]
Gallery
Videos
Trailers and Clips
Interviews
Trivia
Cameos
References
External Links
Ad blocker interference detected!
Wikia is a free-to-use site that makes money from advertising. We have a modified experience for viewers using ad blockers

Wikia is not accessible if you've made further modifications. Remove the custom ad blocker rule(s) and the page will load as expected.